Achievement award for designer Sir Paul Smith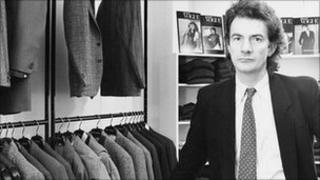 Nottingham-born fashion designer Sir Paul Smith has received the 2011 Outstanding Achievement award from the British Fashion Council.
From humble beginnings in a tiny shop in Nottingham which opened just two days a week, the Paul Smith empire now spans 52 countries.
Sir Paul said he wished to thank his "loyal staff" who had worked so hard to help build his business.
The designer has won four previous British Fashion Awards.
"[This award] obviously means I am getting quite old, they give them out when you've been doing it for quite a long time," said Sir Paul.
"I'm joking, it's great and it's lovely. The award isn't really for me, it's for the great staff, many hundreds of whom work in Nottingham, so thank you."
Turning point
Sir Paul, who was knighted in the Queen's Birthday Honours list in 2001 for his services to British fashion, was planning to become a professional racing cyclist when a bad accident at the age of 17 forced him to pursue a different career.
"I ended up in hospital for three months and afterwards arranged to meet up with some of the people I had met in there," said Sir Paul.
"By chance, they suggested a particular pub in Nottingham where all the art students hung out and that was it, I changed direction.
"I was with architecture students, graphic designers, photographers and suddenly thought 'I quite like this as a way to earn a living'," he added.
To begin with Sir Paul managed a small boutique in Nottingham before opening his first shop on Byard Lane in 1970 with the encouragement of his girlfriend (now wife), Pauline Denyer.
Sir Paul said his wife, a fashion designer who trained at the Royal College of Art, "taught me everything I know, especially about pattern making and the construction of clothes."
By 1976 Sir Paul showed his first menswear collection in Paris under the Paul Smith label, exhibiting his now trademark "British with a sense of humour" style.
There are now 12 collections and hundreds of items such as watches and perfume are made under licence.
Although Sir Paul has an office in London, he still has three warehouses in Nottinghamshire and a flagship store in the city.
In his roles as designer and chairman, Sir Paul said he was perhaps "too hands-on" in the business. "I think it's just a very personal business. I love my job and luckily we've done well and had financial rewards as well.
"The key is, it has come from the heart. From a small start, we have built it slowly, slowly, with very loyal staff some of whom have been with me for 15 or 20 years. It's just a great job."
Sir Paul was honoured at the British Fashion Awards on Monday evening.