Hucknall facelift gets £12.4m funding boost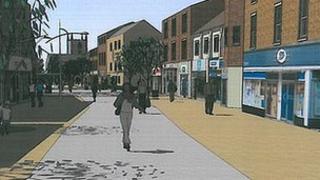 A Nottinghamshire town is in line for a £12.4m facelift after government funding was confirmed.
The scheme would see part of Hucknall High Street pedestrianised and an inner relief road built parallel to it.
The government pledged £8.5m in the Autumn Statement, with extra funding coming from the county council and Ashfield District Council.
The county council said it would bring substantial benefits but some campaigners have expressed doubts.
A consultation carried out between February and April 2007 showed 73% of people were in favour of the scheme, the authority added.
Trade worries
County councillor Richard Jackson, cabinet member for transport and highways, said: "The scheme will bring substantial benefits to the town creating an attractive and prosperous retail centre.
"The removal of traffic from High Street will provide a much safer shopping environment."
But Shelia Robinson, from Hucknall Tourism and Regeneration Group (HTRG), said: "People are afraid there will be a loss of trade because there won't be any through-traffic coming through the town centre. It will all be coming down the new road and miss the main part of the town.
"My own personal feeling is that it will take trade away but it will come back, because once we get the High Street pedestrianised and get little bistros and wine bars and things we will get the business."
Officials said a public inquiry was due to begin in January 2013, with the project expected to be completed by September 2015.