Nottinghamshire veterans set to get better help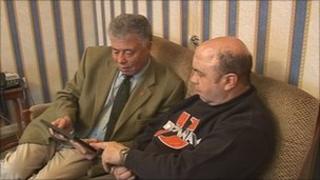 Veterans in Nottinghamshire struggling to settle into life outside the forces are set to receive better care thanks to a new partnership.
About 20 charities and health groups have formed the Veterans Partnership, to give ex-soldiers better support.
Veterans can have difficulty accessing help for their range of problems, including stress, debt and housing.
NHS East Midlands' figures estimate 27% of the region's veterans may develop a common mental disorder.
"The next two years will be particularly difficult with the number of discharges from the armed forces," said Matt Mitchell from Nottinghamshire Healthcare Trust, the organisation leading the partnership.
"There are a huge number of people living on the streets of Nottingham and Nottinghamshire, without a roof over their head who have enduring mental health problems and who are misusing substances and who are really in need of help," said Mr Mitchell.
Wide-ranging help
The Veterans' Partnership includes the NHS, the Royal British Legion, Framework Housing Association, Combat Stress and the Army Benevolent Fund.
According to NHS East Midlands, ex-soldiers often have a range of problems, including drink, debt and housing issues and, until now, have had to approach individual organisations to tackle each problem.
Now, when contacting any one organisation, ex-soldiers will be referred to the Veterans Partnership who will act as a single point of contact.
Michael John, a former soldier from West Bridgford who was shot in the head 35 years ago by the IRA, has been receiving help from the Royal British Legion and is relearning how to talk.
Mr John, who was previously conned out of thousands of pounds and suffered from drink problems, said getting help was very important.
"I didn't know what I was doing but now it's getting to be a lot, lot better."
Paul Mulingani, from the Royal British Legion, added: "There is a massive problem. The young infantryman is normally between 18 and 30 years old and it's not a mature mind.
"Some of the horrors these people see can have effects on certain individuals and these are problems that can come back after service."
The NHS East Midlands estimates up to 19,200 former soldiers could go on to suffer from Post Traumatic Stress Disorder without support and about 52,000 self-medicate or use alcohol as a way of coping.
There are currently 26 active armed forces units based in the East Midlands and it is estimated 2,500 former soldiers settle in the region every year.