Sherwood Forest to host weddings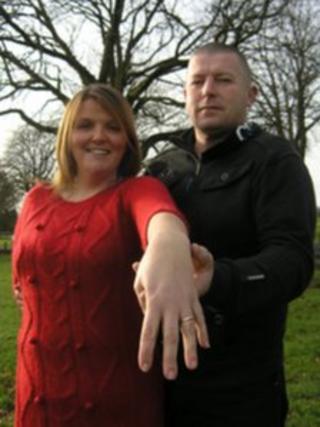 Couples wanting to follow in the footsteps of Robin Hood and Maid Marion will be able to tie the knot in Sherwood Forest next year.
The Nottinghamshire home of the legendary outlaw has been granted a licence to hold civil marriage and partnership ceremonies.
The first wedding ceremony will be held at the county council-run country park on 12 May 2012.
Ceremonies will be held indoors with photographs at the Major Oak.
Mike Harrison and Sarah Bairstow, from South Normanton, Derbyshire, are lined up to be the first to tie the knot in the forest.
'Fairytale'
Ms Bairstow 34, a nursery nurse, said: "Ever since I was a child it has been my dream to get married at Sherwood Forest but I never imagined it could actually be arranged.
"It really will be a fairytale for us as we love the Robin Hood story and the fantastic Sherwood Forest setting."
Mr Harrison, 41, a warehouse supervisor, said: "I have joked to some friends that they will need to dress up in Robin Hood costumes but in all seriousness it will be traditional wedding outfits for us all.
"We are looking forward to what will be a magical day."
Ceremonies will be held at the Oak Room in the visitor centre with receptions following at the Forest Table restaurant.
Andrew Cox, commercial manager at the county council, said: "We are pleased to now be able to host weddings at Sherwood Forest, as many couples wish to get married in the legendary home of Robin Hood and Maid Marian.
"The registrars are looking forward to it too and it's great to be able to offer the service to the local community and people living much further afield."