East Midlands paramedics tried to collect dead man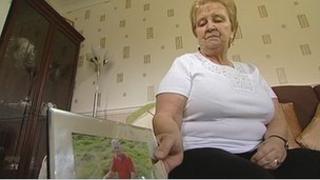 Paramedics called at a woman's house in Nottinghamshire to collect her husband who died nearly four years ago.
George Keeley, 72, died in hospital in February 2008, but an East Midlands Ambulance Service (Emas) crew was sent to his former home in Newark.
His widow Denise said she was "shocked" and the pain of her loss had been revived.
Emas said it had given a personal apology to Mrs Keeley and the mistake had been traced to a clerical error.
Mrs Keeley said the first she knew of the mix-up last month was when a paramedic knocked on the door and asked for her husband.
"I told them it was not possible as he had passed away in 2008," she said.
"He just said 'Oh, all right then,' and began to walk away but I went after him and said 'I want some answers!'."
Mrs Keeley said it had "totally brought back memories" of events surrounding her husband's death.
"It was the sort of ambulance that George was taken to hospital in the week before he died," she explained.
'Distressing incident'
"It was the shock of that with someone coming to your door and asking for him, it's just not on."
Phil Milligan, Chief Executive of Emas, confirmed he apologised to Mrs Keeley in person, at the weekend.
"It clearly was a very distressing incident for Mrs Keeley but it stemmed from a simple mistake as information was transferred from paper to computer," he said.
"But we recognise we got it wrong, we hold up our hands and very much regret it."