Anglers oppose Nottinghamshire river power plant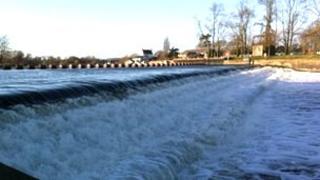 A proposed small-scale hydroelectric power plant on the River Trent in Nottinghamshire will ruin the river, anglers say.
The three-turbine plant at Gunthorpe has Environment Agency approval.
Nottingham Anglers Association's Dave Turner said the hydro plant will kill fish and affect spawning.
An Environment Agency spokesman said it does not expect any fish kill but has inserted a clause that allows the plant to be shut down if necessary.
John Sweeney, a permitting centre manager for the Environment Agency, said: "Our fish experts have carefully considered this application and we are satisfied that the screening arrangements that are placed in front of the turbines will adequately protect the fish.
"We will step in if we get reports of fish deaths at any time.
"We have to protect the environment for all, not just for fish, and one of the biggest threats we face is climate change and global warming. So we need to bring in more technologies that will help us create electricity from less polluting, greener sources, like hydropower."
'Heart and lungs'
Mr Turner said: "The licence allows up to 100 coarse fish and 10 salmon killed in a 24-hour period before it is shut down.
"The turbines are a little bit like an aircraft jet engine so any fish drawn in by the intake screen will be chopped up - there's no doubt about it."
Mr Turner said the weir pool at Gunthorpe was "the lung and beating heart" of the river and would be affected by the plant.
"Fish will use the weir pool as a spawning ground in late spring and early summer and the water coming over the weir is highly oxygenated so a whole stretch of river for many miles downstream depend on a healthy weir pool for its existence."
Small Hydro Company, which is building the project, said a public consultation had taken place and all parties had a chance to put their arguments forward.
A statement on the firm's website said: "Whilst screens deflect fish away from the electricity-producing turbines to ensure that migrating fish are not entrapped, entrained or impinged, the installation of fish passes at weirs will remove a barrier that has impeded migrating fish and eels since the rivers were made navigable in the 18th and 19th Centuries."