Nottinghamshire pays £330,000 in police car crash costs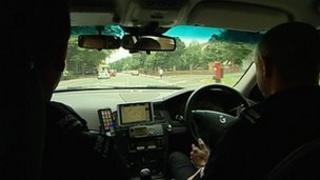 Crashes involving police cars in Nottinghamshire have cost the force more than £330,000 in the past year.
Police are introducing a new driving policy to reduce the cost of collisions.
There have been 180 reports of damage to police cars to date in 2011, with 70 caused by either negligent reversing or hitting the kerb, the force said.
The number of police vehicles involved in collisions actually dropped in 2010-11 to 214 compared with 335 in 2009-10.
The number of collisions where a police driver was at fault was also more than halved, from 229 to 106.
The new driving policy will cover fitness to drive and vehicle condition.
Driver training
The Nottinghamshire force will also look at cutting costs by having fewer cars in the fleet and fewer high performance vehicles.
The force has 537 vehicles which are driven millions of miles each year by more than 3,000 staff and officers.
"Much of the damage caused to police vehicles has occurred when officers are parking vehicles," a police spokesman said.
Chief Inspector Andy Charlton said officers and civilians will be given extra training if necessary.