Street gang affected parents get helpline in Nottingham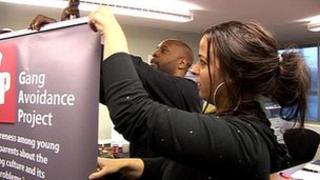 Parents worried about their children joining street gangs in Nottingham are being offered a new helpline.
The Gang Avoidance Project in Lenton gives out advice followed up by workshops in which parents and children are encouraged to talk to each other and the police, project bosses said.
They will be helped by mentors with first hand experience of the damage gangs can do.
David Mitchell, who has helped set up the service, said parents had an important role to play in tackling gang culture but added the problems facing them were daunting.
"There's a lot of parents worried about what their children are involved in but they're scared of communicating to the police," he said.
"They are worried that maybe a window in their house might get put through or their son or daughter might be beaten up by the local gang."
Different minds
Mr Mitchell said he had been in a similar position several years ago when his stepson started to hang around with the wrong people and said he did not know where to turn.
"Parents get left out of the equation when you're looking at street gangs. Yes, there's a need to deal with the issue from a young person's perspective but the parent also plays a big role," he said.
Mr Mitchell said the Lenton project, which has received government funding, aimed to bring parents and the police together "so everyone understands the way things work - how the police are going to tackle the gang issue and how the parents can engage at a confidential level".
He now works with young people at risk of permanent exclusion from school in Lenton.
"There is a huge gap between what the child thinks and what the parent thinks. We need to take the parent and give them the skills to communicate on a level with their children," he said.
The Gang Avoidance Project helpline number is 0800 955 0875.