Chris Eyre in Nottinghamshire Police chief constable promotion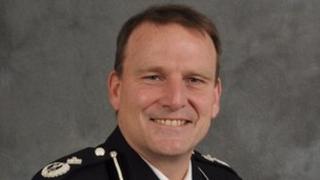 Nottinghamshire Police's deputy chief constable Chris Eyre has been named as the force's next chief constable.
Mr Eyre, who has been in charge of spending cuts and performance at the force, will replace Julia Hodson when she retires in September 2012.
Mr Eyre was brought to the force from Leicestershire in 2010 after Nottinghamshire Police faced criticism in a series of inspection reports.
He was awarded the Queen's Police Medal in 2011.
'Outstanding contribution'
Nottinghamshire Police Authority chairman Jon Collins said: "We are pleased that we have been able to appoint someone with such extensive experience and understanding of policing in the county, and indeed the East Midlands.
"This is particularly important as we seek to collaborate more with our regional neighbours."
Mr Eyre was in charge of the Leicestershire force in the aftermath of the Fiona Pilkington case.
Ms Pilkington and her disabled daughter Francecca Hardwick died in a murder-suicide in 2007 following years of harassment by neighbours in Barwell, Leicestershire.
Mr Eyre, who is married with three children, said: "I am determined to ensure that quality of policing in Nottinghamshire is the best in the country."
Ms Hodson said: "Since he joined the force as deputy chief constable last year, Chris has made an outstanding contribution to policing in Nottinghamshire, not only in driving down crime but in overseeing a major re-engineering of how the service is delivered to the public."