Human body parts repository opens at Nottingham City Hospital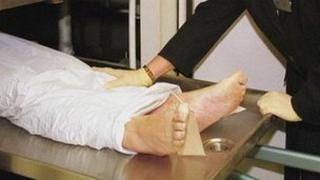 A human body parts repository where cadavers are stored for surgical training has opened in Nottingham.
The repository at Nottingham City Hospital will be the first of its kind in England and means cadavers do not have to be flown in on ice from abroad.
The facility will help bring down costs and improve clinical and surgical skills, surgeons said.
Prof Angus Wallace, from Nottingham University Hospitals, said the benefits for patients would be enormous.
"The affect of this scheme is to make our surgeons even better than they already are," he said.
'Lack of material'
Training on body parts is the best and most realistic way to practise, health officials said.
Prof Wallace, a consultant orthopaedic surgeon, said: "This sort of training has been hampered by the lack of material in the past."
The new facility, in the hospital's revamped mortuary, is expected to reduce training costs by 30%.
"Every time we run a course to train our surgeons we have to fly in cadavers from the United States. It's expensive," Prof Wallace said.
Part of the new centre's work was to appeal for people to donate their bodies to medical science although parts would be used for organ donation first, the surgeon said.
Surgeons said they hoped to provide training facilities up and down the country over the next five years.
The Nottingham Repository is licensed by the Human Tissue Authority.