Nottingham hospitals 'failed' over patient records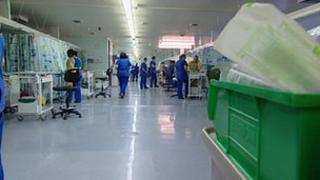 Nottingham's two main hospitals have missed quality targets, an inquiry by the health watchdog has revealed.
The Care Quality Commission (CQC) said the Queen's Medical Centre (QMC) had failed to meet the required standards in eight out of 10 categories.
At the City Hospital, concerns were raised about the confidentiality of patient records.
Hospital managers said some very good care was being provided but "in some areas we can and must do better".
The QMC was inspected in October while the City Hospital was investigated in September.
'Diabolical' food
On the QMC, inspectors said they had particular concerns about the food given to patients and the keeping of patient records.
They said one patient had commented: "[The food was] absolutely diabolical, even the sandwiches are old, pre-packed, dry and awful."
The investigation also found some patients experienced long delays before an ambulance arrived to take them home.
In one instance, an 89-year-old patient with dementia waited 11-and-a-half hours for an ambulance.
Criticising both hospitals over patient records, inspectors said: "Patients could not be confident that their personal records, including medical records, were held securely and remained confidential."
'Robust action'
But reports said of both hospitals: "Patients were generally cared for in safe, accessible surroundings that promoted their wellbeing."
Chief executive of Nottingham University Hospitals, Peter Homa, said: "Although the CQC recognised many of our patients receive very good care at our hospitals, this is not yet consistent on all wards, every day.
"In some areas we can and must do better. Our priority is to ensure we make timely and sustainable improvements.
"We have robust action plans in place which describe how we will achieve this over the coming months."