Besthorpe Nature Reserve project slowed by water shortage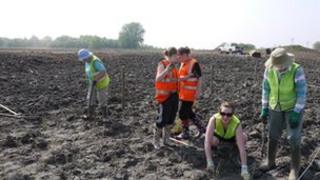 A project to transform a former quarry into a reedbed wildlife reserve is back on track after a dry summer.
Nottinghamshire Wildlife Trust is building a lagoon at Besthorpe Nature Reserve, near Newark, which will use water from the River Trent.
"The dry summer has been a bit of a worry as the reeds need water to help them get properly established," trust spokesman Erin McDaid said.
The trust hopes to pump water into the new lagoon in the new year.
The three-year project aims to attract bittern, warblers and otters to the reserve.
'Maintain habitat'
Mr McDaid said the trust had hoped to fill the lagoon several months ago but low river levels had prevented that from happening.
Volunteers have planted thousands of reeds on an eight-hectare section of the 70-hectare reserve as part of the three-year project.
"We are delighted to see some rain and once the River Trent returns to more normal seasonal levels we will be opening up a special water management system to help us maintain the reed bed habitat for the future," he said.
It will create almost eight hectares of reed bed and three hectares of wet grassland, plus new ponds and ditches.
The area dried out and became overgrown with trees and scrub after quarrying stopped on the property.
Water will be pumped from the River Trent into a large lagoon and then into the new reed bed by way of a series of ditches and pools.
The project is part of the Trent Vale Landscape Partnership, a £2.6m project supported by the Heritage Lottery Fund.