Appeal to look out for mistletoe in Nottinghamshire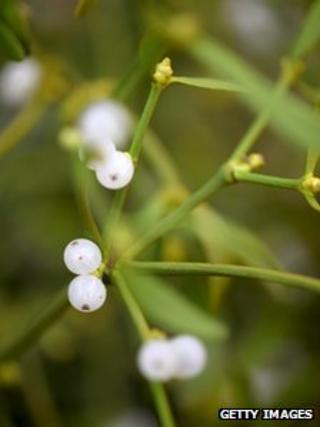 People in Nottinghamshire have been asked to record and take pictures of mistletoe growing in the wild.
Across the UK, mistletoe has declined by around 60% since the 1950s and conservationists have warned it could vanish within 20 years.
However, Nottinghamshire Wildlife Trust said there are more old apple orchards, where mistletoe thrives, left in the county than previously thought.
It said a renewed interest in growing apples could also be helping the plant.
The Trust wants the public's help to map where mistletoe has been seen.
Food for animals
Erin McDaid, a spokesman for the Trust, said: "I've spotted it growing more abundantly in trees alongside the main road through Burton Joyce over the past couple of years.
"With more interest in growing apples we hope that the future of mistletoe in Nottinghamshire is secure but we'd very much like to hear about where it can be found."
The Trust added that community orchards throughout the county in Southwell, St Ann's and Newark are "thriving" which was good news for the plant's future.
Mistletoe's white berries provide food for flocks of winter thrushes and other birds.
It also supports six insect species, including the rare mistletoe marble moth and the kiss-me-slow weevil.