Nottingham tram expansion: Firms 'need more time to move'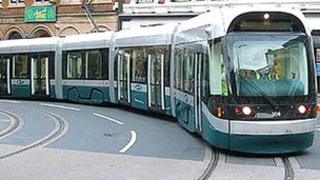 Some businesses affected by the expansion of Nottingham's tram network said they had not been given enough notice to move out.
Compulsory notice orders are to be served asking a number of Beeston retailers to vacate their properties by 16 January, the city council said.
Local business leaders said the short time scale was causing concern.
Steve Tough, from Nottingham City Council, said people had been given plenty of advance warning.
'Not a surprise'
The £570m extension to Nottingham's tram network was given final approval last week.
The construction of two new lines, which will extend the tram system to Chilwell and Clifton, is expected to start in January.
Nottingham City Council wrote to those affected by construction work on 7 December warning them that a formal legal notice would be sent to them a minimum of 14 days before their land was required.
Dan Walker, from Beeston Business Improvement District, said retailers needed certainty to move.
"You cannot sign on another property until you get a legal notice.
"If you did go and the programme slipped or the scheme did not happen there is every risk that you could either lose out on compensation or suffer serious financial loss.
"Fourteen days is not enough time for a retail business to find, acquire, secure and fit out a property," he said.
'Agreed to pay'
Mr Tough, the Nottingham Express Transit project officer, said businesses had been formally notified after the 2007 public inquiry.
"The compulsory notice order is another in a sequence of letters," he said.
"We wrote to people a number of weeks ago to advise on the likely time scales for the properties being required.
"We've agreed to pay compensation and we've helped people move all before the 14 -ay notice was issued," he said.
The compulsory notice order letters are being sent out this week, the city council said.