Sainsbury's West Bridgford plan prompts traffic fears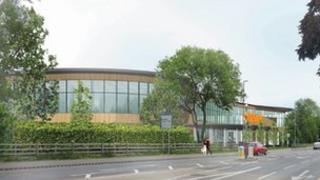 Plans for a new Nottingham supermarket are facing objections that it is too close to a school.
Sainsbury's wants to build a new store on Wilford Lane in West Bridgford on the site of a former pub and using the same entrance as the Beckett School.
But Councillor Gordon Wheeler said an increase in traffic would affect pupil safety.
Sainsbury's said full plans have not yet been submitted and the company is listening to feedback.
The 51,000 sq ft (4,700 sq m) store will have 610 car parking spaces would share an entrance with the Beckett School.
Mr Wheeler said: "There are about 1,000 pupils at Beckett School and to have the same access corridor as where children are walking, on the bus or any other means of transport as delivery vehicles and customer cars is just downright dangerous."
Sainsbury's said the new store would create about 350 new jobs.
A spokesman added: "The site has always been earmarked for development and we understand the entrance in question was designed to take traffic for this.
"But we are in listening mode and safety is of course our primary concern."