Nottingham's QMC gets special premature baby incubator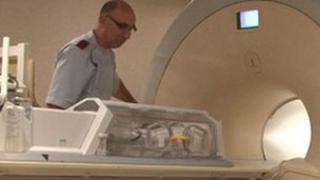 Neonatal care at a Nottingham hospital has been boosted by the arrival of a specialist incubator.
The Queen's Medical Centre has taken delivery of the equipment which will benefit premature babies needing an MRI scan.
The £200,000 unit can be wheeled into the scanner without having to move the baby from one transporter to another.
Premature babies can now undergo magnetic resonance imaging supported by all necessary treatments.
A hospital spokesman said: "The neonatal incubator has an integral 3T infant head coil for imaging, which is the first in the world, and is designed using MRI compatible parts."
Consultant neonatologist Dr Stephen Wardle said: "During the process we want the baby to be settled and quiet so that we can get a detailed scan without the baby moving and without any interference.
"And obviously we want the baby to be as comfortable as possible."