Nottingham Lace Market office block plan criticised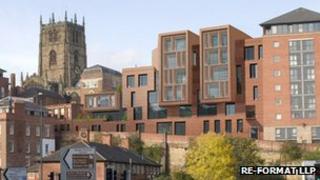 Plans for an office block in a historic part of Nottingham have been criticised by campaigners.
Studon Holdings wants to develop the last open site in the Lace Market, currently a car park, and alter three listed buildings.
The civic society said the six-storey development would harm the skyline around St Mary's Church and one of the most important views in the city.
Councillors have been recommended to approve the plans at a meeting later.
Much of the site has been empty since buildings damaged in bombing during World War II were demolished.
Plans for a larger building on the site were rejected in 2007.
'Sensitive location'
Nottingham's Civic Society and English Heritage have both objected to the plans as being too large and intrusive.
Ian Wells, from the civic society, said: "Our great worry is that it will impact on views of the church, you can see the east end of the church at the moment and there is a great sense of visual climax at the moment.
"There have been very telling comparisons made with Lincoln and the view as you drive towards it with the cathedral right at the top - would they build something obscuring that view?"
Planning officers said the site was "one of the most sensitive locations in the city centre" but said changes to the amount of glazing and a red brick finish meant "the height and mass of the proposed development now responds well to the significance of this view".
Neil Armitage, from designers Re-format, said: "The scheme has been carefully developed with the planning department to enhance the iconic Lace Market cliff edge.
"The current gap was created when buildings that were bomb damaged in World War II were subsequently demolished.
"The modelling of the proposed scheme has been sensitively crafted to protect the view of the St Mary's Church Tower and to recreate the lost 'building edge' to Malin Hill."
Studon Holdings said it could not comment on the plans at this time.