Controversial Nottingham Lace Market office block approved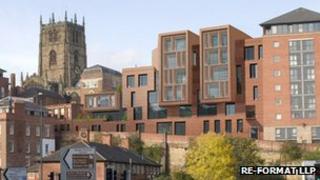 Plans have been approved for a new office block in Nottingham's Lace Market that heritage campaigners have warned will ruin an iconic city view.
The six-storey £12m development in High Pavement had been criticised by the Civic Society because it would obstruct views of St Mary's Church.
The project is due to create about 320 jobs when the new offices open.
Planning committee chairman Chris Gibson said it would "bring new life to a very difficult site".
He said the council had been considering applications for this site for more than six years and had worked to get a design that "sits comfortably in one of Nottingham's most historic and attractive areas".
"We believe these plans sit sympathetically alongside St Mary's Church and the nearby buildings.
"People who are familiar with High Pavement and Short Hill will realise there is a big space used as a car park that has been there since the bombs dropped in the 1940s that eventually is going to be put back so it looks like a proper street," Mr Gibson said.
But Hilary Silvester, of Nottingham Civic Society, said: "We are disappointed with the decision as it will impact on the views of the Lace Market and particularly St Mary's Church which is located in the oldest part of the city."
'Block the view'
She said the glass construction material being used on the buildings would create "glare" and ruin the view.
Ms Silvester added: "The council in Lincoln would never build something that would block the view of the [Lincoln] cathedral - would they?"
The city council's development control committee was told the location was one of the most sensitive in the city centre with an iconic view of Nottingham from the south.
Developers Studon Holdings will pay £38,675 towards improving public transport in the area.
An archaeological survey will be carried out before work begins.
Archaeologists believe "significant pre-Norman Conquest" items may be found on the site.