Anonymous donation after children's ice hockey kits stolen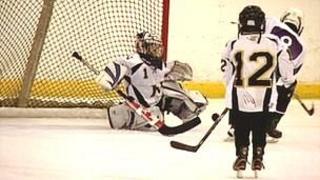 The mother of two junior ice hockey players whose kits were stolen says Christmas is back on after an anonymous donor pledged to fund new outfits.
Carly Widziernikow, from Bulwell, Nottingham said the family's car was broken into and a goal minder's kit and a player's kit were taken.
An anonymous company has now offered to replace the stolen items, worth about £1,000, after hearing about the theft.
Ms Widziernikow said the donation had restored her faith in human nature.
"I'm just overwhelmed. We are just amazed people could be so generous. It was so unexpected," she said.
Ellis, her seven-year-old son, added: "It's really good news. I like to play hockey and I don't want to give it up."
Without the kits Ellis and brother Aston, six, would not have been able to play in matches for their team, the Sherwood Sabres.
Now the two boys can now take part in a two-day ice hockey training camp in Sheffield that their mother had bought them for Christmas.