Knife victim's family opens Nottingham support centre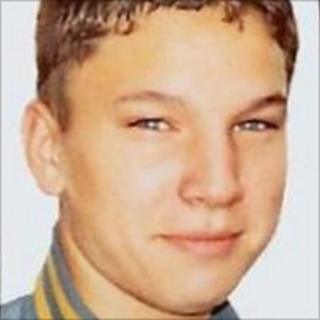 The family of a Nottingham teenager who was murdered in a knife attack in 2007 have opened a support centre for people affected by traumatic deaths.
Jason Spencer was 17 when he died after an argument over a ripped jacket. He was stabbed near his home in Sherwood.
His family, who have campaigned for more support for victims of crimes, won a £6,000 award from Nat West Bank Community Force just before Christmas to help fund the centre in Nottingham.
Jason's stepfather John Greensmith said the Life Centre would be "a place where people can come and talk about how they are feeling".
Cafe and garden
One-to-one support sessions and bi-monthly meetings will be held at the centre, which will be run by the Jason Spencer Trust.
Jason's mother, Angela Spencer, is hoping to open a series of similar Life Centres in towns and cities across England.
Mr Greensmith said: "There are families out there now who won't be getting any help or any support or who don't know what support is out there … we are saying to them who are suffering - give us a call, come along, sit down and lets have a chat and talk about your experiences.
"It does help - we want to let people know they are not alone. People from far and wide can come … and visit us.
"There is a door you can actually knock on - and go through and sit down and talk about it."
The Life Centre will offer a variety of facilities including a cafe, outdoor play area, and a garden for meditation.
Several events have been organised in Jason's memory, including an annual pool tournament and a fund-raising campaign to develop a sports ground in Nottingham.
People in Sherwood raised £60,000 to transform land on Valley Road into a park called the Jason Spencer Sports Ground in 2011.
Jason's killer, Reuben Valentine of Sherwood, who was also 17, was jailed for a minimum 16 years.