Cannabis farms 'endemic' on Nottingham estate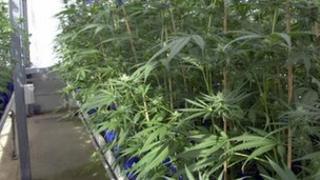 Small cannabis farms are "endemic" on a Nottingham estate, according to a Nottinghamshire police officer.
Sgt Ian Cresswell said cannabis was becoming a way of life for some people living on the Broxtowe Estate and he had seen children as young as eight smoking the drug.
"It's endemic. It's becoming almost the lifestyle on the estate in certain areas," he said.
"The kids have to finance it somehow, it's going to be an awful lot of pocket money to buy £10 or £20 worth of drugs two or three times a week and that can feed into lower level crimes like shoplifting."
He said the problem was also directly affecting younger children.
"Last week there was a woman at an address in Strelley who had a cannabis grow that had been robbed. They'd beaten up the occupants, stolen the cannabis and she had an 11-month-old toddler with her.
"Her partner was so stoned he couldn't even stand up. You could see the kid red in the face and he was actually wheezing.
"It saddens me because what chance has that kid got?"
The number of cannabis farms with less than 50 plants discovered in the county has more than doubled from 43 in 2008-09 to 105 in 2010-11, according to police figures.
From April to October 2011, 89 of those farms were found, compared to 50 the previous year.
Sgt Cresswell said some people saw growing cannabis as a way to make a quick profit and others were coerced into it to repay debts to dealers.
"We will continue doing what the people want here, which is removing it from the streets. This is why people have the confidence to phone and say come do something about it," he added.
Jo, who discovered she had been living next door but one to a cannabis farm in another part of Nottingham, which was found to have plants with a street value of £25,000, said it had had a lasting effect on her.
"I still feel very cross. I feel violated in a way and like my home life has been affected.
"It was amazing that that was happening on my doorstep. It's taken me many months to think about going out on my own at night."
'Organised crime'
Police said the problem was increasing in the county.
Ch Supt Ian Waterfield said: "We are seeing a move from organised crime into the growing of cannabis whether that be them renting premises themselves or by coercing people into growing.
"They consider cannabis to be fairly low risk but high in reward. It's a business to them and a way of life."
One landlord said it had taken £30,000 to repair damage to a house he had let out in Beeston, which had been used for cannabis cultivation.
"There was foil thermal lining all around the windows, there was a hole knocked out of the chimney breast, most of the carpet had been ripped out and there were metres and metres of electricity cables," he said.
However, one Nottingham man, who did not want to be named and was found growing 300 cannabis plants, said his activities did not affect anyone else.
He said he felt safer growing his own plants rather than going to drug dealers.
"What I was doing didn't hurt anybody. It didn't involve any theft of any electric.
"It didn't involve selling any weed to anybody else," he said.
He was given a 10-month prison sentence suspended for two years and is serving a 200-hour community service sentence after admitting the cultivation of cannabis.
Lung removed
Chris Simonite, a reformed cannabis user, who now works as a drugs counsellor for Trust the Process, said smoking the drug had caused him to have psychological problems and he had to have 75% of his right lung removed after developing bullous disease.
"I thought that cannabis was harmless, same as everybody else did.
"It was only years after that with the psychological damage it had done to me that I realised it had a major impact as well.
"I turned my life around, had two lovely children and wanted to play football but I couldn't do the simplest things because I'd had part of my lung removed."
Kathy Mason, regional manager for Nottingham City Homes, said her staff were working with police to gather evidence to clamp down on the problem.
"Drug use from any of our properties won't be tolerated and we will take action.
"The vast majority of our customers are law abiding and respect their home and their neighbourhood," she said.
You can hear more on this issue on Radio Nottingham's breakfast show from 9 to 13 January from 06:00 to 09:00 GMT.