Nottingham's Wollaton Hall to host Stargazing Live event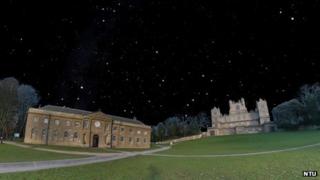 A Star Party is to be held at Wollaton Hall in Nottingham to mark the return of Stargazing Live to BBC Two.
The free BBC event, on 17 January, will give visitors the chance to have a go at stargazing with experts and take part in hands-on science activities.
Nocturnal wildlife displays and craft activities will also be on offer as well as talks from astronomers.
No booking is necessary but car parking charges will apply. Visitors are advised to bring a torch.
The event takes place from 18:00 to 21:00 GMT.
Majestic wonders
Stargazing Live, presented by Prof Brian Cox and Dara O Briain, is on BBC Two from 16-18 January.
The programme is aimed at encouraging people to learn more about the night sky.
Broadcast live from the control room of the Jodrell Bank Observatory, the pair will join a starry collection of the country's finest astronomical minds to explore the majestic wonders of the skies above Britain.
They will tackle questions including:
Why does the moon cause the tides?
How do we know where black holes are when they are impossible to see?
What will we actually say if we ever make contact with an alien race?
Closer to home, there will also be hints and tips for getting started in Stargazing and advice on navigating your way around the skies.