Killer William Barnard's family call for safeguards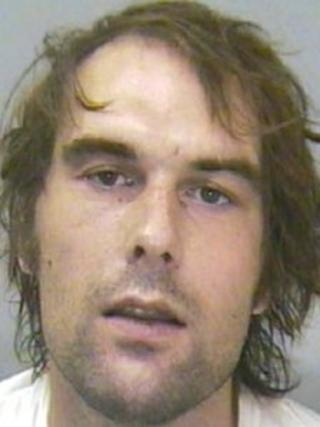 Relatives of a man with schizophrenia who stabbed his grandfather to death have called for more safeguards after a report criticised health workers.
William Barnard, of Stapleford, admitted manslaughter in 2010 but his mother said he could not be held responsible as he was seriously ill.
The 32-year-old's relatives are also pushing for an inquest to expose the individuals they believe are at fault.
Nottinghamshire Healthcare NHS Trust said it had already improved services.
Barnard inflicted 56 wounds on 81-year-old John McGrath in July 2009 and also injured his grandmother.
'Cult' idea
His mother Kathleen Barnard, Mr McGrath's daughter, said: "William obviously wasn't responsible for his actions because he was ill, very seriously ill.
"You can't hold him responsible because he didn't know what he was doing.
"[He had] some crazy idea about my dad belonging to some kind of cult that was out to get him."
Barnard was committed to Rampton high security hospital indefinitely after pleading guilty to manslaughter on the grounds of diminished responsibility and a charge of wounding his grandmother.
A report was published on Thursday following an independent investigation for the East Midlands Strategic Health Authority.
It concluded health workers missed vital chances to assess the state of Barnard's mind.
Ms Barnard believes her father would still be alive if they had assessed her son and sectioned him.
"We didn't need the report to know that they weren't giving him the appropriate care that he needed," she said.
"I would like to be involved with regular meetings, just to see that these things are being put in place."
'So much better'
Individuals were not named in the report and disciplinary action has not been taken against any staff.
Barnard's uncle, Peter McGrath, said: "We're still going to push for an inquest to take place so that some of these nameless and faceless people can be made to account for the lack of care that was given to William."
Ms Barnard said he her son was finally getting the help he needs, now he was detained at Rampton.
"He's so much better now, which is really good to see," she said.
"It's kind of like I've got the old Will back, the Will that I didn't think I'd see again."
But she said he was "distraught" knowing what he did.
"How can he live with that? He has to live with that on a daily basis, to know what he's done," she said.
"It hasn't torn the family apart, it has actually brought us together, and we were a close family anyway. And that's what my dad would have wanted.
"He would still be here fighting Will's corner. That was all he ever wanted, was for Will to get the help that he needed."
Dr Peter Miller, Medical Director for Nottinghamshire Healthcare NHS Trust, said: "Since we received the report earlier this year we have been actively working with the Assertive Outreach Team to complete the recommendations and I am pleased to say that they have all been completed.
"On behalf of Nottinghamshire Healthcare I would once again like to extend my sympathies to William Barnard and his family."