Former PC Timothy Allatt wins assault conviction appeal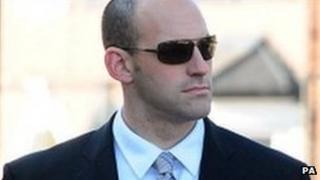 A former Nottinghamshire police officer has won his appeal against a conviction for assaulting a suspect during arrest.
In August last year, Timothy Allatt, 33, of Bingham, was convicted of assaulting Jake Bramley in 2010 and given a two-month jail term.
The appeal at Nottingham Crown Court heard Mr Allatt insist he had carried out a legal arrest.
His defence said there was insufficient evidence to show he had acted unlawfully or used unnecessary force.
Suspect 'pinned'
PC Daniel Moss, who was at the scene at the time, told the court that Mr Allatt had kicked the suspect and that he was not resisting arrest.
But the court was told by another officer who assisted in the arrest, Sgt Simon Allardice, that the suspect had been shouting and trying to run away.
Mr Allatt denied kicking or dragging Mr Bramley, or throwing him into a wall.
The 33-year-old was sacked from Nottinghamshire Police last year after a tribunal ruled he used unreasonable force in an unrelated case.
Mr Allatt's solicitor Damian Kelly said after Friday's hearing that his client felt "vindicated" by the decision.
Mr Justice Flaux said he was "unable to accept PC Moss's evidence in its entirety" and that the officer "may well have been mistaken".
He said there was no suggestion PC Moss made up the evidence, but added that the officer had testified the light was poor at the time.
Nottinghamshire Police Deputy Chief Constable Chris Eyre said after the decision: "It is important that Nottinghamshire Police acknowledges and supports the court's decision.
'Flight to fight'
"Before Mr Allatt's criminal case came to trial, he was dismissed from the force over a separate and unrelated assault on a member of the public.
"He is no longer and will not be an employee of Nottinghamshire Police."
During the appeal, Mr Allatt said he had made the decision to apprehend Mr Bramley in the space of a few seconds because the suspect had gone "from flight to fight".
He said he had used a "palm heel strike", which was later described as "a normal distraction technique used to disorientate, cause pain or make suspect unbalanced".
He said his training as a firearms officer allowed him to make instant decisions and he had tackled the suspect because he had thought he was a threat.