St Ann's stabbing victim, 16, heard mumbling before collapse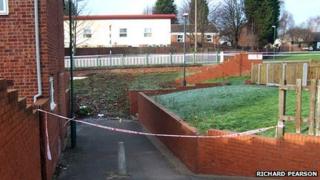 A teenager who was stabbed on a Nottingham estate is in a stable condition in hospital, police said.
A witness heard him mumbling into a mobile phone before he collapsed in Paxton Gardens, on the Stonebridge estate in St Ann's.
The 16-year-old is being treated at the Queen's Medical Centre for stab wounds to his legs.
Nottinghamshire Police received an emergency call at about 18.30 GMT on Monday.
Barry Crofts, 60, who lives in nearby Eastham Close, was in Paxton Gardens when the victim collapsed.
'Dropped behind wall'
"I was sitting on the wall after taking my dog for a walk and it was about ten past or quarter past six," Mr Crofts said.
"I heard someone walking along and mumbling. I thought he would pass me but he dropped to the floor behind the wall."
Mr Crofts said he sat there for 10 minutes thinking the victim "was drunk".
"This young girl [then] went past me and she was on the phone," he continued.
"He must have been talking to that girl because she went straight to him. She knew where he was.
"I heard her asking for an ambulance. I asked if he was all right and she said he had been stabbed."
Police cordoned off an area of Beacon Hill Rise close to its junction with Stonebridge Road, and another area in Northampton Street.
Mr Crofts added: "There was no shouting or anything so it must have happened a long way away."