Nottinghamshire Christmas drink-drive arrests increase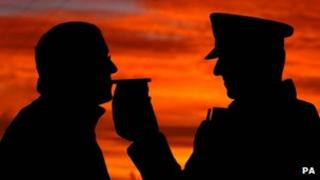 The number of drink-drive arrests in Nottinghamshire over Christmas increased, despite a sharp reduction in breath tests, police said.
A total of 152 people were arrested during the annual Christmas and New Year campaign, seven more than in the same period the previous year.
But only 1,864 tests were carried out compared with 3,501 in December 2010.
The results were said to be "good news" as they showed a "targeted approach" worked, Nottinghamshire Police said.
The increase in arrest rates, from 4.1% in December 2010 to 8.2% in December 2011, were also said to be down to a greater willingness from members of the public to report drink-drivers, and officers using their training and instincts.
Ch Insp Andy Charlton said: "Testing has to compete with other policing priorities, even during those periods of the year when we are involved in a concerted campaign of this sort.
"Anything we do to make our operations more efficient is encouraging."
Forty-five of the 152 people arrested were involved in crashes during December, police said.