Nottinghamshire County council plans to scrap cabinet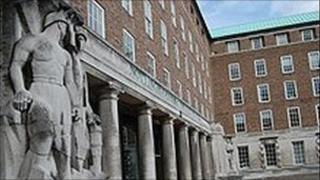 Nottinghamshire County Council is considering plans to scrap its leader and cabinet system of decision making.
Decisions are now made by the cabinet, which is made up of councillors from the ruling Conservative group, full council and in some cases, officers.
The authority is proposing to return to a committee structure, using new powers under the Localism Act.
The plans will be discussed at a full meeting of the county council on Thursday.
'Handing back power'
Local authorities with a population of more than 85,000 had to switch to the leader or mayor and cabinet system in 2000.
Under the new system committees would be made up of councillors from different parties in the authority.
Council leader Kay Cutts said: "The committee system is the most democratic and transparent form of governance. It ensures all 67 councillors elected by the public play a role in decision-making and shaping the policy of the council.
"It ensures greater transparency as no decisions are made behind closed doors - all decision-making meetings are held in public."
Local Government Minister Bob Neill said: "The Government is handing power back to where it belongs - in the hands of citizens, community groups and local councils.
"The Localism Act, which recently gained royal assent, gives councils the freedom and flexibility to return to a committee system of governance, if they wish, regardless of their size. We are pleased that councils are already proposing to take up these new powers."