Drugs plot was 'like film script'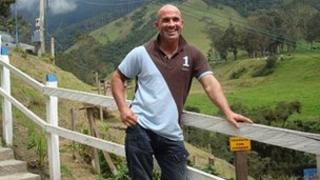 Detectives have described a thwarted plan to bring five tonnes of cocaine to the UK from Colombia as being like a movie plot.
Coded messages, trips to South America and drugs hidden in crates of fruit all featured in a plan masterminded from inside a Nottinghamshire prison.
Had it worked, the men stood to make millions of pounds.
Instead, three men are facing jail after being found guilty of conspiring to import cocaine at Birmingham Crown Court.
Ringleader Russell Knaggs, 38, devised the elaborate scheme while serving a 16-year sentence for drugs offences at Lowdham Grange Prison in Nottinghamshire in 2009.
Phillip Hadley, 52, of Conisbrough, Doncaster, and Robert Rich, 40, from Barnsley, were working on the outside.
Cassim Koubari, 38, of HMP Rye Hill, David Phillips, 56, of HMP Doncaster, and Melvin Smit, 34, of Roermond, Holland, were found not guilty of conspiring to import cocaine.
Anthony Perger, 51, from Sheffield, pleaded guilty to the charge at the start of the trial.
Meetings with cartels
The court heard Knaggs had obtained contact details for drug dealers in Colombia and had set about organising a deal for five tonnes of cocaine to be shipped from the South American country to the UK.
He assembled a team which included three men on the outside, Rich, Hadley and Perger.
The group began to put the wheels in motion, travelling to Europe to arrange transport routes and one member, Rich, flying to South America for pre-arranged meetings with drugs cartels.
Gerry Smyth, from the Serious Organised Crime Agency (Soca) said: "It actually is a bit like a film script.
"We're talking millions and millions of pounds of value of cocaine that they would have brought into the UK.
"The profits would have been enormous. If they had been successful in this plot none of them would have had to work ever again."
Mr Smyth said the plan involved the drugs being shipped from Colombia in consignments of fruit and brought to the UK via Costa Rica, California's Long Beach, Germany and Belgium.
He said: "These people have travelled to South America and Europe. They've had to organise transport routes, transport systems and behind it all, sat in prison, is Russell Knaggs pulling all the strings.
"It was being run like a business - people were travelling all over the world to pull the business together.
Blueprint discovered
"It's not an easy thing to do. Some people might think you can just go to South America and meet with drugs cartels but you can't.
"It's all the inter-dependencies, all the people who've been involved with this, the connections, the trading, the money transfers."
The group may have thought their planning was meticulous but little did they know the authorities had got wind of it after outline details about the plan were found during a prison cell search.
Officers found a two-sided piece of A4 paper with transfer routes and figures on.
Mr Smyth said: "The prison service, through some great work they conducted, actually found what was really a blueprint document of how this whole plot was planned.
"They brought it to our attention and from that moment on, we monitored people both inside and outside prison - and in doing so came to where we are now."
Soca and the prison service worked out the men were using a sophisticated code to communicate their plans - including referring to the whole scheme as "a plastering job".
Once detectives had built up a full picture of the plot, they made arrests before it could be carried out.
Mr Smyth said: "Our tactics we've used here have proved to all prisoners that they don't know who is watching and when.
"There's a realisation that we need to monitor people who are in prison so that they are seen as lifetime offenders.
"I suspect people will have some serious second thoughts about running their illegitimate businesses from within the prison system.
"There is a level of arrogance among some of the high-level criminals who think they can run a business from within the prison service but it just isn't going to happen."