Nottingham fire death: Boy 'beat woman with hammer'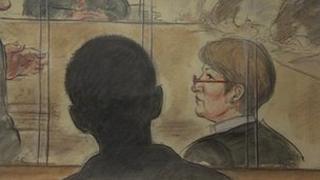 The jury in a Nottingham murder trial has been told a schoolboy beat a woman to death and then set her house on fire to destroy the evidence.
The prosecution said the woman was killed with a hammer, her body padded with paper, covered in petrol and set on fire at her home.
The jury also heard the boy eventually admitted the attack but said he lost control after being called a freak.
Neither the schoolboy nor the woman can be identified for legal reasons.
The prosecution said the killing was well researched and a story mapping out the details was found to have been deleted from the boy's computer.
'Fantasy world'
A montage of soap opera clips about fires and a murder involving a hammer were also found on his computer.
The prosecution said the boy had immersed himself in a "fantasy world" but the boundaries between real life and fiction had become "tragically blurred".
The jury at Nottingham Crown Court heard authorities had raised concerns about the boy's behaviour in the months before the attack.
He was sent to a counsellor after he started screaming that his school tie was trying to hurt him during a lesson.
He told the counsellor voices were telling him to hurt people and that he had had visions of killing people.
But several experts concluded that he was not mentally ill and he did not pose a risk.
The trial continues.