Cancer centre opens at University of Nottingham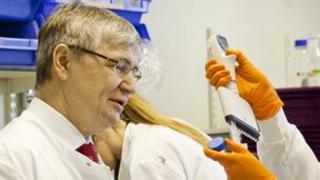 A centre specialising in the early detection of cancer is to be officially opened at the University of Nottingham.
The Centre of Excellence for Autoimmunity in Cancer is based at the university's school of graduate entry medicine and health in Derby.
Researchers there are developing a blood test which can pick up the first signs of cancer up to five years before a patient suffers any symptoms.
The test looks for antibodies produced by a patient in response to cancer.
John Robertson, director of the centre and professor of surgery in the faculty of medicine and health sciences, said: "Early detection is the holy grail in cancer treatment.
"If we can treat cancer at the earliest possible moment we know we can help save millions of lives."