Probe into fuel filled tree at Arnot Hill Park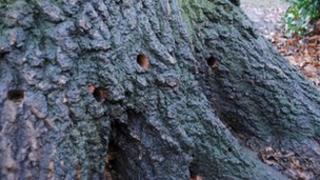 A tree in a Nottinghamshire park has been discovered with four holes drilled into its base and filled with petrol.
The 100-year-old oak tree at Arnot Hill Park, in Arnold, was found by rangers after they smelled the liquid's fumes.
Gedling Borough Council, which is based at the park, wants to hear from anyone who might have heard drilling late at night on 18 January.
The authority said the police were investigating the damage and the tree was being monitored on a daily basis.
Michael Payne, deputy leader of Gedling Borough Council, said users of the park would be appalled by what had happened.
"Somebody has got to bring significant kit to the park to do something like this and we want anybody to get in touch who has heard drilling late at night," he said.
"We want to find the person responsible and prosecute them."
It follows the shooting dead of a black swan at the park last year.