Video footage shows scenes of horror at Nottinghamshire farm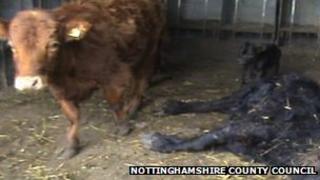 The suffering endured by animals at a Nottinghamshire farm is laid bare in a video shot by trading standards officers at the scene.
The footage shows animal cannibalism, rotting carcasses and emaciated livestock barely able to stand at White Haven Farm in Bestwood.
An investigator's voice cracks with emotion as she provides an audio commentary.
Trading standards called it the worst case of cruelty they had ever seen.
At Nottingham Crown Court, owner Keith Littlewood, 47, was jailed for 12 months.
He pleading guilty to eight breaches of the Animal Welfare Act relating to cruelty and four breaches of animal by-product regulations relating to the none disposal of carcasses.
Rotting remains
The video was shot in March 2011 during an unannounced inspection of the farm.
It begins with the officers investigating a series of adjoining pig pens and commenting on the "disgusting stench" as they discover the rotting remains of several pigs.
We are then shown a crowded pen of pigs which are still alive but extremely underweight.
One of them is in the corner busily eating something. The investigator identifies it as a dead pig.
As the officers walk outside, animal parts and bones, including trotters and a jaw bone, are seen strewn around the grounds.
The narrator takes a sharp intake of breath upon entering the next barn. It contains a young calf, standing next to the decomposing remains of a cow, possibly its mother.
'Absolutely horrendous'
The team's journey through the farm continues with officers stepping through decomposing animal remains and an exposed spinal column.
On the commentary, the officer notes a yellow, chalky quality to the mud which she speculates may have come from guts during decomposition.
At one point she is heard to gag as she enters a barn filled with rotting dead animals and excreta.
Another barn features more pig cannibalism before the team encounters a cow in an extreme state of emaciation.
One of the officers gives the cow two inches of water. She says she does not dare give it any more before getting advice from a vet in case it harms the animal.
On the other side of the farm, three horse-boxes are found - one with a dead dog inside, another housing a dead pig and the final one has a dead donkey.
The officer describes the scenes she has encountered as "absolutely horrendous".
They were also illegal - and now the man responsible is serving a jail sentence for the cruelty he inflicted on the animals under his care.