Boots passes on Nottingham Workplace Parking Levy to staff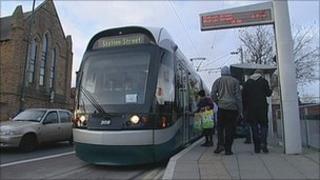 Alliance Boots is to pass on much of the cost of Nottingham's Workplace Parking Levy to its staff.
The city council charge, which will be used to pay for transport improvement schemes, will be introduced in April.
Boots' site in Beeston has about 4,500 car parking spaces with 3,000 of them within the city boundary.
Businesses are responsible for paying the levy based on the number of spaces. The USDAW union said it was "extremely disappointed" at Boots' decision.
Boots had said it was considering moving its car park to avoid the charge.
However, the firm has now said it will pass most of the cost of the Workplace Parking Levy (WPL) on to its staff.
The cost of the WPL, which comes into force on 1 April, will be £288 + VAT per space per year - a 3.2% increase from the £279 per space figure proposed previously.
Most Boots employees will have to pay £180 for the first year, while those earning less than £20,000 must pay £80.
Boots said it could not sustain the cost of the WPL but would be contributing £200,000 in subsidies.
In a statement, Boots said: "We continue to be opposed to the Nottingham City Council tax on car parking which affects around 7,500 colleagues based at the Alliance Boots Beeston site.
"While the company will part-subsidise the levy, from 1 April 2012 colleagues will pay between 30p and 70p a day for parking on site, in proportion to their salary and work time.
"The parking arrangements at the Beeston site are very complicated and we have spent considerable time trying to find the simplest and most sustainable solution, taking into consideration the number of spaces liable for the tax, the number of uses of these spaces each day and the total number of car users across the site."
David Johnson, from the union USDAW, said: "The vast majority of people drive into work because it's the only accessible way of doing it.
"You've got to bear in mind our members on site, the vast majority work shifts so even the public transport arrangements are such that they can't use public transport for the majority of time.
"So it really is a penalty being applied to the workforce. I think it's wrong to pass on that charge to employees who can ill afford it."
Boots said it would continue to review the charging arrangements.
Nottingham City Council has estimated that the WPL will raise about £14m a year city-wide.