Childcare burglar Wayne Bishop's father wants him jailed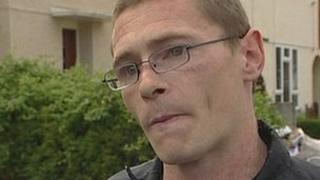 The father of a Nottingham burglar who has now been convicted of assault has said he should be sent to prison.
In May 2011, Wayne Bishop, 34, from Clifton, successfully appealed against an eight-month jail sentence so he could look after his five children.
On Thursday he was found guilty of assaulting a man in Broxtowe and will be sentenced at a later date.
Phillip Wheelhouse, 60, who has moved away from Nottingham, said his son should now serve time for both crimes.
Mr Wheelhouse said he had been angered by his son's claims to have had a tough childhood.
"He went on about how he had been dragged up. He wasn't dragged up, he was brought up proper.
"He was saying how he never had this stuff and that stuff, like mobile phones and Gameboys. They weren't out when he was a child.
"Me and his mum had split up and he was with his mum, but he pulled both of us down and she did her best, you can only do your best."
Mr Wheelhouse said he felt his son now deserved two jail terms.
"He should do the time for the first thing and then this time on top, to teach him he can't get away with it.
"It has got to do something, he has to learn."
And he dismissed the argument his son needed to care for his family.
"If he was that concerned about his children he wouldn't have got into trouble.
"Not only that but the children have a mother to care for them."