Home Brewery building sale aims to cut £400k running costs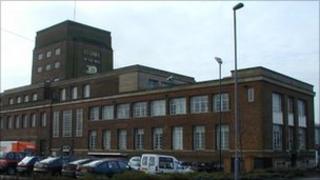 A Nottinghamshire landmark has been put up for sale in a bid to save the county council £400,000 in annual running costs.
The Home Brewery building, in Daybrook, has housed council staff since 1999 after the company left the site 16 years ago.
The authority said it is trying to save £2m in total by reducing the number of properties it runs.
It would not say how much it hoped to sell the grade II listed building for.
Councillor Reg Adair, who speaks on finance at Nottinghamshire County Council, said the figure was commercially sensitive.
He added: "We don't need it as a county council, we can't afford to keep the office space we've got."
The 1930s building is being sold on the open market and the money raised will be reinvested in council services, the authority said.