World record-breaking balloonist Janet Folkes' funeral held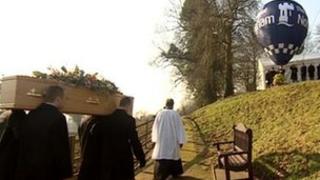 The funeral of a world record-breaking balloonist at the University of Nottingham has been held.
Dr Janet Folkes, from Bulcote and an expert in lasers and water-jetting, died from breast cancer last month.
In 2010, she took part in the Gordon Bennett Cup balloon race while undergoing chemotherapy.
The lecturer, who had been flying since 1984, held more than 50 records. Her funeral took place in Bulcote.
Dr Folkes' friend Nicci Parker said: "She worked through a lot of her illness, losing her hair in the first lot of chemo, and she'd flown, she did all these incredible things.
"I've just been in awe of this woman and it's been a privilege to be allowed to have been a part of her world, it's been great."
Dr Joel Segal, of University of Nottingham, said: "She lived life to the full, you really can say that.
"She just kept going, she was even at Christmas talking about coming back in January to do more teaching."
Dr Folkes, with her co-pilot Dr Ann Webb, set a world record for the longest all-female hydrogen gas balloon flight in the 2009 Gordon Bennett race, staying airborne for more than 69 hours.
The Gordon Bennett Cup is one of the world's oldest aviation races.