Sam Lowe jailed over Nottingham riot texts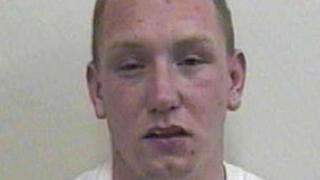 A 21-year-old man has been jailed for three years and three months for sending text messages urging people to join riots in Nottingham.
Sam Lowe, of Keswick Court, Sneinton, sent a text message to 160 people on 8 August 2011 urging them to show the police "what it's all about".
In another message Lowe said he had "a bin full of bricks".
At Nottingham Crown Court, he pleaded guilty to a charge of encouraging violent disorder.
Deleted messages
Nottinghamshire Police said one text message read: "Girls, grannies, mums, dads, lads, grandads - everyone meet on Sneinton Dale tonight at 9 o'clock as we are all going to kick off..."
More than 141 people were arrested and 87 were charged after cars, pubs and shops were damaged in August 2011 in Nottingham.
Detective Rich Henson said: "Not only did we manage to gain access to Lowe's BlackBerry Messenger messages, we were able to retrieve his deleted messages, which are also very difficult to recover due to rigorous security settings."
Det Ch Insp Rob Griffin said: "The judge today has handed down a sentence to reflect the seriousness of Lowe's actions.
"It is impossible to quantify the impact and effects of the messages he sent that night.
"It is clear, however, that this was an irresponsible and criminal act at a time when people were rising up against the police on a national scale."