Ompton villagers set up fake speed camera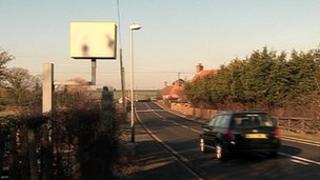 Residents of a Nottinghamshire village have set up a fake speed camera in an attempt to slow down traffic.
Villagers in Ompton, near Ollerton, said busy traffic on the A616 flouted the 40mph limit past their houses.
They said the dummy camera fooled drivers into cutting their speed.
Nottinghamshire County Council said the camera was legal because it was located on private land, but added the owner could be liable if someone blamed it for a crash.
'Perfectly legal'
County Councillor Bruce Laughton said: "We have looked into all the legalities of it and it is perfectly legal.
"I can't condone it being put in place but there is no doubt it is working (to reduce speeding)."
The owner of the land has not commented but Corey McFarlane, who lives nearby, said he supported the fake camera.
"The speeds on this road for motorbikes can reach 130 mph," he said.
"You just have to stand here and you'll soon see a seven and a half tonne lorry doing 60 through this 40 zone."
The county council said it was in discussions with residents about installing an interactive speed sign.