Snow causes poor driving conditions in Nottinghamshire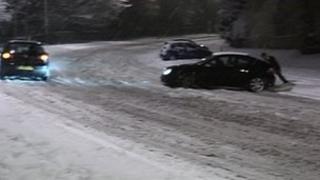 Police in Nottinghamshire have urged motorists to stay off the roads because of poor driving conditions.
Snow and cold weather on Saturday made the roads in Nottinghamshire "extremely dangerous to drive on", a police spokesman said.
Lower Parliament Street in Nottingham was closed due to the icy conditions and Mansfield Road, the A60 and the A614 were also extremely icy.
Motorists were advised to only drive if absolutely necessary.
Freezing temperatures overnnight could also result in icy conditions, the Met Office reported.
A Nottinghamshire Police spokesman said: "The snow and the low temperature is an extremely dangerous combination for drivers - our advice is to stay off the roads and only drive if it's absolutely essential."
Several football matches in Nottinghamshire were cancelled on Saturday because of frozen pitches and the Nottingham Forest match against Derby County at Pride Park on Sunday was also postponed.
A rugby match at Meadow Lane planned for Sunday between Nottingham and Leeds was also cancelled because of a frozen pitch.
Nottinghamshire County Council said it had oil-filled radiators on standby to deliver to the elderly and vulnerable if heating failed.