Eric Pickles urges Nottinghamshire council to rethink cuts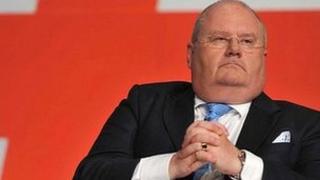 Communities Secretary Eric Pickles has urged Nottinghamshire County Council to rethink "disproportionate" cuts to the voluntary sector.
In a letter to the authority's leader Kay Cutts, Mr Pickles said organisations must be treated fairly.
Mr Pickles said the Conservative-run authority's voluntary sector cuts were higher than he had expected.
Ms Cutts said she had followed guidance on how much to cut. Labour said the drop was "too extreme".
Nottinghamshire County Council's voluntary budget in 2010/11 was £3,156,345. Next year's financial budget, which is set to be considered by the authority's cabinet, is £2,129,988 - more than a third less.
Martin Suthers, deputy leader of the council, said over four years the planned cuts to the voluntary sector would balance out.
"We don't dispute that we made a very large cut in the first year of this period where we're losing government grant, but over the four years you will find that it is entirely proportionate," he said.
Councillor Alan Rhodes, leader of the opposing Nottinghamshire Labour group, said the drop in the last two years was too extreme.
He said: "Any indication of cuts like this, at this magnitude, has a massive effect on staff morale, on the service that's been delivered and ultimately on those people who need the service.
"It's astonishing that a Conservative secretary of state is admonishing the county council for its excessive cuts it's made... this has more to do with ideology than financial necessity."