BMX champion Jamie Bestwick still has 'the fire'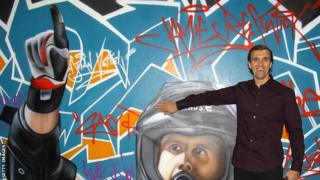 BMX world champion Jamie Bestwick says he still has "the fire" after 30 years in the sport.
The Nottingham-born sportsman, who grew up in nearby Heanor, Derbyshire, was 10 years old when he picked up a friend's BMX bike and started jumping off kerbs.
"You would never think riding a bicycle for most of your life would ever lead to anything, but when you have a dream, and a passion for something you love, it's amazing how far it will take you," he said.
The 40 year old quit his job at Rolls-Royce, in Derby, in 1999 and moved to Pennsylvania in the US to become a full-time pro.
Fractured skull
He has won eight major BMX championships since 2002 and recovered from a fractured skull to win another championship in 2011.
"Accidents set you back a long way.
"It takes a lot of effort but I came back, I won the X Games again, I won the championship again and it really showed me I had the drive, inner strength and passion.
"It showed I still had the fire," he said.
In February, Bestwick was recognised at the Laureus World Sports Awards, in London, along with fellow sporting champions Novak Djokovic, Sebastian Vettel and Lionel Messi.
Bestwick said: "It's been quite a journey just to find out how far I can take tricks on the ramp and what is possible in the realms of riding such a simple piece of apparatus - a BMX bike."
But despite his achievements he said he remains a "very humble sportsman".
"You need to have real appreciation for what you're doing and I think this area has given me that."