Bramcote naked sex attacker sought by police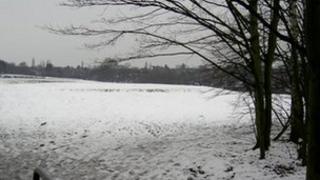 A naked man has carried out sex attacks on two young women near a Nottinghamshire leisure centre.
A girl, 17, was sexually assaulted in a field near Bramcote Leisure Centre on 21 January.
And police think it was the same naked man who carried out a lewd act in front of a 21-year-old woman in the same field on 5 January.
The offender is thought to be aged between 30 and 40, slim, about 5ft 10in tall with very short brown hair.
Det Insp Rob Severn, of Nottinghamshire Police, said: "We believe the same man has struck in the same place at least twice.
"He has been completely naked on both occasions and has approached lone females in an isolated field and in the most recent incident he has gone on to carry out a serious sexual assault on his victim.
"We have been carrying out extensive inquiries since these attacks came to light and now we are appealing to members of the public who may hold the key to the identity of the attacker."
Officers also believe the same man was responsible for a sexual assault on the number 4 bus between Nottingham city centre and Bramcote Leisure Centre on 5 January.