Motorists warned as Nottinghamshire prepares for snow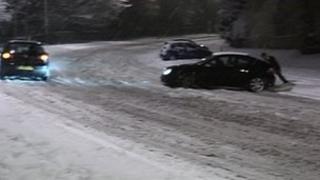 Motorists in Nottinghamshire have been advised to take extra care after up to 5cm (2in) of snow fell overnight in parts of the county.
Nottinghamshire Police has already recorded 19 road traffic collisions as a result of icy weather over the last seven days.
All of the county's A and B roads were gritted twice in one day with an extra high concentration of salt.
The Met Office warned that rain could freeze instantly, forming black ice.
Nottinghamshire County Council gritted 950 miles of roads in total, sending out the gritters at 13:00 GMT and again at 19:00 GMT.
Police have warned motorists to only make necessary journeys, and avoid harsh braking and acceleration if they do drive.
Motorists should also take items such as a shovel, an ice scraper or de-icer, a torch, blanket, warm clothing and a fully charged mobile phone with them.