Car crashes into Beeston toy shop window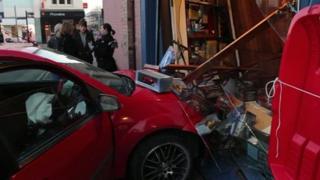 Two people fled after a car crashed into a toy shop in Nottinghamshire.
The Ford Fiesta ploughed into Applebee's on Wollaton Road in Beeston on Saturday afternoon.
Shop owner Jeffrey Graham said he had seen a woman and man getting out of the car and having an argument before running off.
Nottinghamshire Police said it was investigating the crash. There are no reports of injuries.
Mr Graham, who said the shop had been in his family for 92 years, said: "I was in the shop and heard a thunder, a smash and a tumble, it felt like half the shop was coming down.
"I came to the front door and the front window caved in. It looked like I'd been raided in daylight. It's devastating, I can't believe it."
A passer-by said: "There was a mighty bang and a clatter... a car was buried into the shop, a girl came out and ran off."