Lee Westwood to become Bassetlaw honorary freeman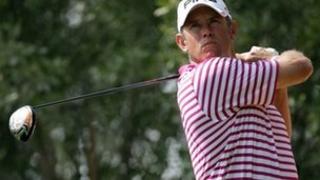 World number two golfer Lee Westwood is to be given the freedom of his home district in Nottinghamshire.
The 38-year-old, from Worksop, is to become the first individual to become an honorary freeman of Bassetlaw, the district council said.
He will be presented with a scroll and jewel of office at a special ceremony at Retford Town Hall in March.
Bassetlaw District Council leader Graham Oxby said the golfer was a credit to the area.
Mr Oxby said the former world number one was still heavily involved with youth and community groups in Bassetlaw.
'Great ambassador'
"He has not forgotten where he comes from and he has put Bassetlaw on the map on a worldwide basis.
"The freedom of Bassetlaw is the highest honour we can bestow on him for his outstanding contribution to society," he said.
Councillors approved the proposal at a meeting of Bassetlaw District Council on Monday evening.
The council said he will not get any special privileges but it was a way of recognising his achievements.
Bassetlaw MP John Mann, who nominated the Ryder Cup-winning golfer for the honour, said: "He has been a great ambassador for Britain not just Worksop.
"Golf is very big in Worksop and Lee has remained an important part of it."
He was appointed OBE in the Queen's Birthday Honours list in October.