Mother 'shocked' by QMC hospital's care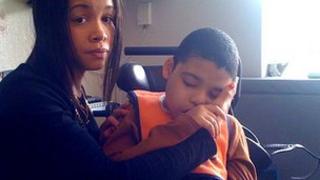 The care a nine-year-old disabled boy from Derbyshire received at Nottingham's Queen's Medical Centre (QMC) was "shocking", his mother said.
Nikel Dyer, from Long Eaton, has epilepsy and learning difficulties and was taken to the QMC on 4 February.
His mother Keeley Gonsalves said she found a tea bag in his pillow case and claimed he was almost hurt after not being strapped into his wheelchair.
The hospital said it was investigating Ms Gonsalves's concerns.
'Mouldy tea bag'
Ms Gonsalves took him to the QMC's accident and emergency department after he had a fall at school.
He was admitted to a ward where staff made a catalogue of errors over a four-day period, Ms Gonsalves said.
She said blood tests were forgotten about and communication between staff was confused.
The mother was told by a consultant that her son was going to be given a drug to try to stop his seizures but claimed it was not written down in her son's notes.
Cleanliness of the toilets and bedding was also an issue, Ms Gonsalves said.
She said: "I went to change his bedding and I noticed in the corner of the pillow case there was a mouldy tea bag.
"On one of the baby towels there was food on it and on the other pillow case there was a massive stain."
Ms Gonsalves claimed at one point a student nurse failed to fasten all of the buckles that kept him strapped into his wheelchair.
She added that he was also offered him a tin of ravioli which was almost a year past its sell-by date.
"Luckily I said I would feed him. I tried it before I gave it to him and thought this didn't taste right. It was nearly a year out of date," she said.
Nikel has up to 30 seizures a day and has been attending the hospital regularly since his birth.
"Standards have really gone downhill. Things are normally fine," Ms Gonsalves said.
In a statement, Nottingham University Hospitals NHS Trust said: "We apologise to Nikel and his family for the shortcomings that have been identified.
"We have spoken to the family and are investigating fully each of their concerns."