Young people in Mansfield choose litter duty over fines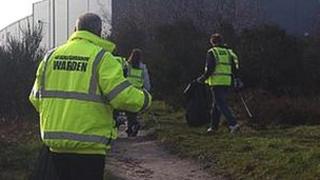 Every young person caught dropping litter in ten months has opted to tidy their town rather than pay a fine, a council has said.
Mansfield District Council has offered the litter-picking rounds, as an alternative to £75 fixed penalty notices, since April last year.
It said 157 people aged 12-17 had been caught littering in that time and each one had chosen the one-hour rounds.
The authority said other councils were now copying the scheme.
'Teaches respect'
The litter picks, which are organised by neighbourhood wardens, take place on Saturday mornings at locations around the town.
The scheme is open to anyone aged 12-17 who is in full-time education. Failure to attend the sessions results in prosecution.
Mick Barton, from Mansfield District Council, said: "We believe the litter picks are much more effective than issuing fixed penalty notices because parents would normally end up paying on behalf of their children.
"This teaches the young people the importance of respecting their environment and the consequences if they do not."