Ex-Forest Academy footballer died in cell 'after swallowing cocaine'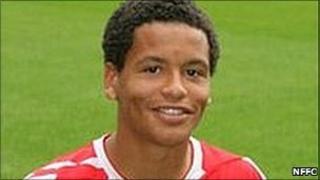 An inquest has heard how a 19-year-old man died in police custody after one of the 19 packets of cocaine he had swallowed burst in his stomach.
Reece Staples, a former Nottingham Forest Academy player, collapsed in a cell at Oxclose Lane Police Station in Nottingham in June 2009.
Five Nottinghamshire Police officers have been disciplined over the death.
Arresting officer PC Ben Hensell told Nottinghamshire Coroner's Court he had failed in his duties at the time.
PC Hensell said he should have told the custody sergeant straight away about Mr Staples' claims he had swallowed cocaine.
The court heard how in the early hours of a Sunday in June 2010, Mr Staples went to his aunt and uncle's house in the Old Basford area of Nottingham.
He started smashing up their windscreens and hitting their front door and was arrested.
Witnesses said Mr Staples seemed very agitated and kept saying "I'm going to die".
'Going to die'
The previous week, Mr Staples had returned from a trip to Costa Rica with 19 packets of cocaine he had swallowed and smuggled into the UK.
When he was arrested, he told police he had swallowed cocaine from Costa Rica, it had burst and he was "going to die".
But the officers said they dismissed his comments as he had already lied about having a knife and had tried to run away from them.
Sgt Neil Haynes, one of the officers involved in the arrest, told the inquest he had not been trained to spot the signs of a cocaine overdose.
He said: "I should have asked more questions, I wish I had and I clearly regret that."
Dr David Rouse, a forensic pathologist, told the court that at whatever time Mr Staples was taken to hospital, he would not have survived.
He added it was impossible to say when the cocaine ruptured and cocaine levels of five in the body were always fatal. Mr Staples had a level of 10.
At a gross misconduct hearing in June 2010, five Nottinghamshire police officers received final written warnings.
No criminal charges were brought against the officers and the force said it had updated training for officers. In future, those claiming to have swallowed drugs it said would be immediately taken to hospital.
The inquest continues.