Golfer Lee Westwood appointed OBE at Buckingham Palace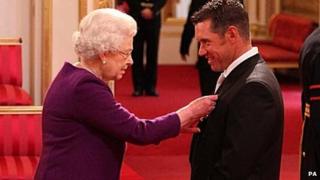 Golfer Lee Westwood has spoken of his amazement at being appointed OBE in a ceremony at Buckingham Palace.
The world number two, from Worksop in Nottinghamshire, has been honoured for services to golf.
Westwood, 38, became world number one for a five-week period last year and finished third in the US Open.
He said: "You don't imagine, when you start playing the sport you love, that you will end up receiving an award for it. It's amazing really."
The golfer, who is currently preparing for the US Masters in April, said he had been asked about playing golf around the world.
He said: "The Queen spoke to me about travelling, where I've been recently and where I'm going.
"I'm sure I don't do as much travelling as she does though.
"I've played golf with Prince Andrew before, so perhaps the Queen has an interest. I would have preferred to speak to her about horseracing though, but I didn't have the chance."
Earlier this week, Westwood was awarded the freedom of his home district of Bassetlaw in Nottinghamshire, becoming the first individual to receive the honour.