Top police officer apologises to cocaine death inquest over training failure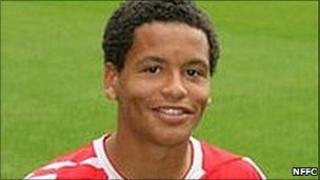 A Nottinghamshire police officer has apologised for delays in staff training at an inquest into the death of a man who died after swallowing cocaine.
Reece Staples, 19, died in June 2009 after being arrested in Nottingham.
Assistant Chief Constable Paul Broadbent said the officers on duty were unaware of guidelines saying anyone suspected of swallowing drugs should be taken to hospital.
Mr Staples had told four different officers he had swallowed drugs.
Burst packet
The teenager, a former Nottingham Forest academy footballer, was taken to Oxclose Lane police station after being arrested for criminal damage.
He collapsed but died on his way to Queen's Medical Centre after one of the cocaine packets burst in his stomach.
The inquest at Nottingham Council House heard that he had smuggled the cocaine into the country from Costa Rica.
The officers said they dismissed his comments as he had already lied about having a knife and had tried to run away from them.
Mr Broadbent said the guidelines, which had been introduced in 2007, stated that anyone suspected of swallowing drugs should be immediately taken to hospital.
He said the guidelines were available on the force intranet but he admitted that staff were not given formal training in the new procedures until late in 2011.
He said the failure to institute training was "unfortunate" and "regrettable".
Five Nottinghamshire police officers received final written warnings over the incident at a gross misconduct hearing in June 2010.
The inquest continues.